Good Shepherd Women's Services Centre
hamilton, Ontario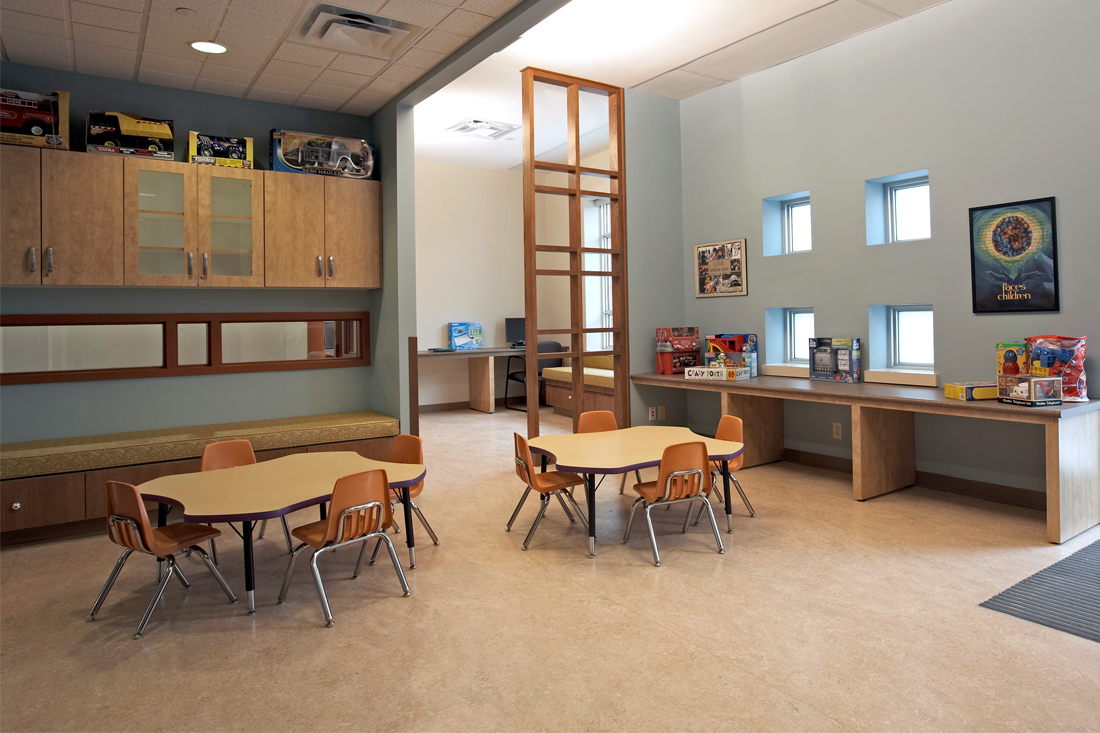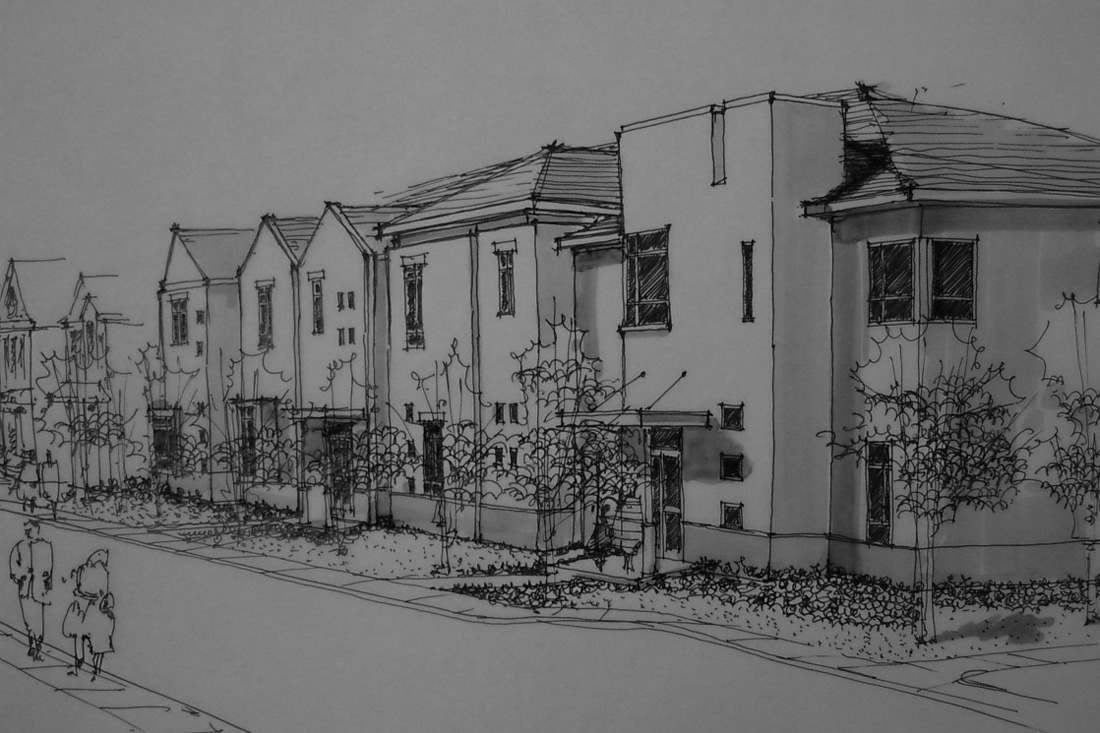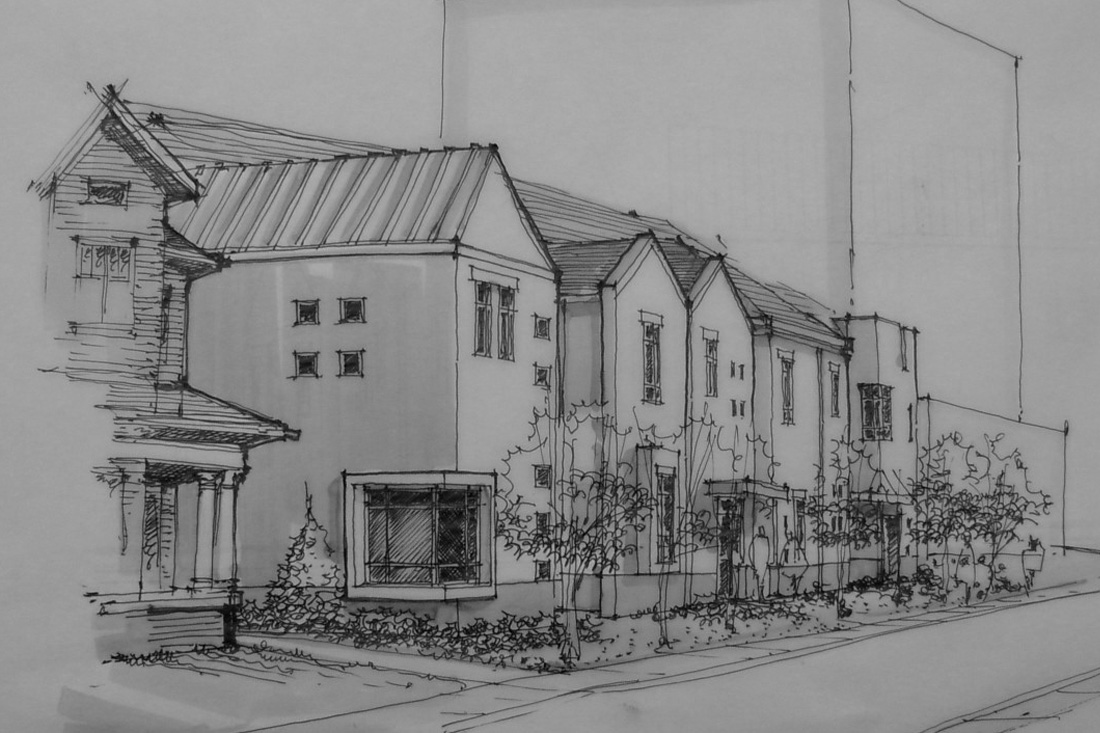 AWARDS
Hamilton Urban Design and Architecture Awards – Award of Overall Excellence in Urban Design 2013

Hamilton Urban Design & Architecture Awards – Award of Merit for Urban Design 2011
Client Good Shepherd
A unique co-joined pair of supportive housing shelters, Martha House, a 40 bed shelter for victim of domestic violence and their children, and Mary's Place, a 20 bed shelter for women who are hard to house and often have mental health and addiction issues. The shelters are kept separate, but share use of some common areas and support facilities and staff can move from shelter to shelter as needed, allowing cost sharing and increased amenities. The building is focused inward around a quiet, garden courtyard to allow safe outdoor space. Each shelter also has a generous, dedicated enclosed outdoor space. The wing of common spaces enfronts the public street and has a separate entrance, allowing outside use or use by either shelter and making 'private' shelter areas less visible, safer and more private. Covered porches define each entrance, and ring much of the courtyard to soften the massing and provide shade and weather shelter.
The design goal was to create a haven, a safe home. The design is intended to be quiet and compassionate, with an understated street facade to blend with neighbours gracefully, avoid stigmas for residents, add pride of ownership and enhance resident dignity. The facade is modulated into five unique elements designed to mimic and blend with the adjacent Victorian houses.
Our inspiration was to evoke the feel of a small residential hotel; using hospitality models rather than institutional ones. In a unique departure, Martha house residents live in apartment style units, unlike the typical bedroom units used in shelters. Giving residents a 'normal' dwelling helps them heal, and avoids the frictions and tensions of strangers in stressful situations sharing washrooms, kitchens and dining space. Resident dignity is a key benefit of this model, although staff have to work harder to ensure residents engage with staff and programmes, and cocooning is avoided. This reflects that residents are related only by their predicament and have varied backgrounds and lifestyles, this is not a community by choice.
The design includes a ground floor with many places for people to come together or gather, allowing wide social choices. Interaction is then an option, not an obligation. Most common areas have generous glazing and are open to the exterior gathering space and to the main circulation routes to encourage engagement and foster a sense of community. Each shelter has a large Commons room for events, and the shared wing holds several larger multi-purpose rooms. Scattered throughout are quiet places of contemplation, repose and meditation. Warm, natural materials are used throughout, and a visually rich and playful environment that is homelike has been created.
Mary's Place residents have dwellings modeled on generous sized hotel rooms, with private baths for dignity and large windows. A common kitchen and dining room accommodates these residents, who typically need more supports for activities for daily living. Three bedrooms are located on the ground floor for residents with mobility issues or requiring additional attention.
Design for community building and supporting casual interaction is intended to help residents fight boredom, depression and isolation. Both inside and outside a path allows residents to meander or walk on a looped circulation route.
Small two storey lobbies with overlooking lounge nooks connect the hub spaces of each shelter from the common and residential levels, and each have a grand stair that encourages use and is a residential element in look and feel.